Stop With the Jargon Already
Just because you're using words doesn't mean you're saying anything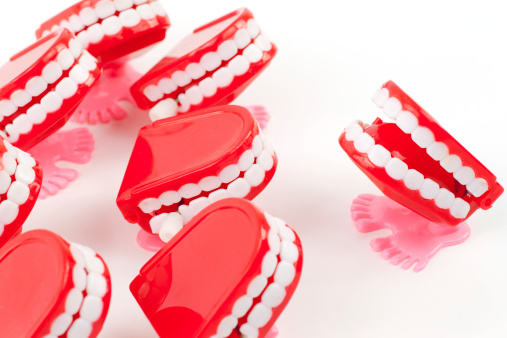 If you've you've ever sat in a room with "industry experts" and found yourself thinking, "What the hell are they talking about?" then you've probably experienced one of my biggest pet peeves: Jargon. In the marketing industry it's everywhere. Well we don't try to make ourselves look smart by making clients feel dumb. We want them to completely understand why we're doing what we're doing and why we believe it works.
August 14, 2017 by Betsy Cadel
If a dentist told you that he facilitates a symbiotic connection resulting in resolving fundamental personal challenges while executing superior results and a noticable ROI how would you feel?
Personally my dentist cleans my teeth. Really well. And I come back regularly again and again. I recommend him to people and when I have questions I know he'll have the answers. Which, in a nutshell, is pretty much what any customer wants from any business.
As I look at the multitude of marketing company websites out there I am struck by one thing...according to their descriptions they all do exactly the same thing. Some of which I'm not even entirely clear on, and I'm in the industry.
A little secret, if you're sitting in a room with anyone from a digital marketing director to a dentist and they're throwing terms and acronyms at you that only serve to make them look smart and you feel stupid it's time to get them to validate your parking and leave.
If you've read the rest of this site, blog posts, downloaded cool content, and especially if you've connected personally, chances are you've seen that Bruckner Design just doesn't operate that way. Which doesn't mean we're not really successful on behalf of our clients, it just means that we're in this together and we like to make sure that everyone understands exactly why they're doing what they're doing.
Normally posting is left to the incredible Digital Marketing Director, Kyle. He tackles hot topics and trends in a way that explains everything so that it's easy to digest and implement.
Check out his post on Facebook Pixels
, that was a monster. He wanted to include a cheat sheet and special offer, because for a "simple tool" it's not exactly easy to understand.
There, I've said it.
But, if you're more comfortable with jargon then I want to assure you that Bruckner Design is a full-service advertising, online marketing and innovative technology company that specializes in SEO, SEM and strategic branding solutions which focus on creating engaging consumer experiences across all platforms for the most robust ROI.